Alpha Pay Point is a bill payment service in cooperation with Alpha Bank through our company's POS terminals.
With Alpha Pay Point service, consumers can easily and quickly pay their bills in Energy, Water Supply, Telecommunications and other organizations.
Benefits of Bill Payments service
Increase of customers and profits
One terminal for 2 applications (talk time renewal – bill payments) 
Quick and easy transactions
Simple issuance of transaction copy
Continuous availability of technical and telephone support
Minimum stand by time 
Continuous integration of new bill payment products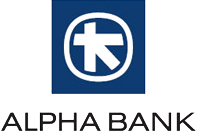 Available Bill Payments products
Energy                                                    Telephony – Ιnternet – TV                                      Water Supply     
DEH                                                            Cosmote                                                               EYDAP
NRG                                                            Vodafone                                                              ΕΥΑ Thessalonikis
Heron                                                          Wind                                                                     DEYA
ΚΕΝ ΑΕ                                                        Cyta
Elpedison                                                   Forthnet                      
Green Enviromental                                     Nova 
Protergia                                                    Cosmoline
REVMAena                                                 Voicenet
Volterra                         
Watt + Wolt
Volton
Hellenic Post Office S.A.   
Tolls                                                                               Natural Gas
Attiki Routes S.A.                                                      Ε.P.Α. Attikis
Αυτοκινητόδρομος Αιγαίου Α.Ε.                              E.P.Α. Thessalonikis - Thessalias
Nea Odos                                                                    Former Ε.P.Α. Thessalias
Τ.Ε.Ο. ΑΕ
Highway Central Greece S.A